Automatic coffee makers offer a completely automated process, from grinding the coffee through to brewing. These machines are suitable for homes or businesses where coffee is consumed in large quantities, with an emphasis on speed and simplicity of preparation.
Continue
Automatic coffee machines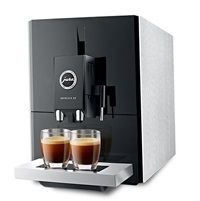 automated preparation process
integrated coffee grinder ensures fresh espresso coffee

equipped with steam nozzle (for frothing milk)

for easier maintenance, some models feature a self-cleaning mode
Advantages:
automated preparation of coffee
Drawbacks
higher price and larger dimensions
demanding maintenance (if not self-cleaning)
Other parameters
Pressure - constant pressure should be min. 9 bar
Height-adjustable spout for different cup sizes
Space for warming cups
Functions - self-cleaning, automatic milk frothing
Was this information useful?
This form is for collecting Feedback Only. If you have any other inquiries, please our Customer Care team here.
Is something missing or displayed incorrectly? Let us know your suggestions so we can improve the website and customer experience.
Best Deals
1.
Automatic coffee machine - 1850W, 15bar, 1.8 litres water, coffee bean hopper 250 g ceramic grinders
2.
Automatic coffee machine - with built-in milk carafe, 15bar, ceramic grinder, 5 grinder settings, five intensity levels of coffee, 6 coffee specialties, profile adjustment, adjustable nozzle height 150mm, choice of a double cup, the possibility of powedered coffee, AquaClean filter indicator scale , stainless steel casing, capacity carafe 0.5 litres of milk, coffee beans capacity 250g volume of 1.8 litres water tank, product dimensions 221x340x430mm, made in Europe, silver colour, plastic material
3.
Automatic coffee machine - 15bar, 1.6l water tank, 500g coffee tray, thermoblock, 2 cups simultaneously
Enter product name
Note (link, Part number etc.):