Experience the feeling that they know just professional athletes. Keep your racing car completely under control with an exclusive steering wheel from Logitech. Leave all rivals far behind. Steering wheel controls are positioned so that they are perfectly achievable. Equipped G920 missing driver D-Pad and buttons console has been integrated into the steering wheel. Smooth shifting in tight corners can do with semiautomatic lever switches.
Dominate the race track
Experience the same action as professional racing drivers. With the Logitech G920 Driving Force racing wheel, you will have your racing car completely under control.
Controls at your fingertips
All the controls, including automatic paddle shifters for smooth, accurate gear transitions, are right where you can easily reach them. Even the D-Pad and console buttons are incorporated into the steering wheel.
Compatible with Xbox One
The Logitech G920 Driving Force racing wheel is designed for the latest Xbox One racing games. To make it work on a PC, simply use the Logitech Gaming Software.
Realistic response
Thanks to the dual-motor force feedback, you'll feel every change of terrain, every drift, and every tire slip.
Built to last

Because it features solid steel ball bearings in the wheel shaft and stainless steel parts, the Logitech G920 Driving Force racing wheel handles the stress of racing action with ease.
The paddle shifters and pedals are made of the same high-quality stainless steel. The wheel is covered in hand-stitched leather for great comfort.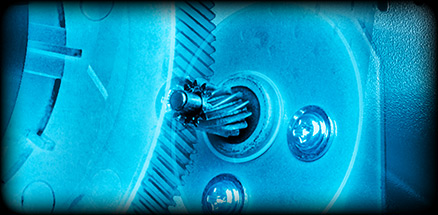 Smooth steering
To reduce noise and vibrations, all helical gears are modelled after gears used in real automotive transmissions. This also helps the racing wheel to deliver an exceptionally smooth steering action.
For maximum control, the anti-backlash keeps the wheel and pedals tight at all times. The Logitech G920 Driving Force racing wheel also features a reliable hall-effect steering sensor which uses magnetic fields to determine the exact position of the wheel.
Sensitive pedals
Maintain a more realistic driving body position with the separate floor pedal unit. It features throttle, brake, and clutch pedals that let you accelerate, brake and change gears like in a real car.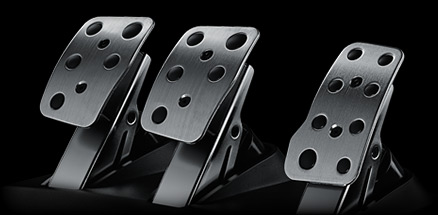 The nonlinear brake pedal simulates the performance of a pressure-sensitive brake system for an accurate braking feel. The pedals can also be repositioned to make heel-toe manoeuvres easier to perform. The base features rubber feet that help the pedals stay stable on hard surfaces and a patented retractable carpet grip system.
Secure mounting
Because the racing wheel mounts securely to your table or racing rig via built-in clamps or screw mounting points,
You can be sure that it won't move even during very aggressive manoeuvres.
900° steering
Just like in real race cars, the 900-degree lock-to-lock rotation allows you to turn the wheel around two and a half times. A stripe provides a visual indicator for you to stay oriented in the right direction.
Specifications:
System requirements (Xbox)
Xbox One, powered USB port
System requirements (PC):
Windows 8.1, Windows 8 or Windows 7
Powered USB port
Internet connection and 150 MB of hard disk space (for optional software download)
Games that support the Logitech racing wheel and force feedback
Package contents:
Steering wheel
Pedals
Power Adapter
User Documentation
Dimensions (wheel):
Height: 270 mm
Width: 260 mm
Length: 278 mm
Weight without cable: 2.25 kg
Dimensions (pedals):
Height: 167 mm
Width: 428.5 mm
Depth: 311 mm
Weight without cable: 3.1 kg
Technical specification:
Software support: Logitech Gaming Software
Connection Type: USB
USB VID_PID: 046D_C262
USB Protocol: USB 2.0
USB Speed: High
Indicators (LED): Yes
Properties:
Rotation: 900 degrees lock-to-lock
Rotation sensor works on the principle of Hall effect
Dual-motor feedback
Protection against overheating
Pedals:
Nonlinear brake pedal
Patented carpet mounting system
Textured heel rest
Automatic calibration
Materials:
Wheel: Anodized aluminium
Hand-stitched leather steering wheel cover
Wheel shaft: Steel
Paddle shifters: Polished Stainless Steel
Mounting brackets: Nylon blended with glass
Pedals: Cold-rolled steel and Polished Stainless Steel
Pedal piston casing: Polyoxymethylene (POM)