Philips Irons
Do not waste your precious time ironing your laundry. Take advantage of our high-quality irons, steam generators and Philips fans that, due to our innovative technology, will reduce ironing to a minimum, increase ironing comfort, and spice up every fabric.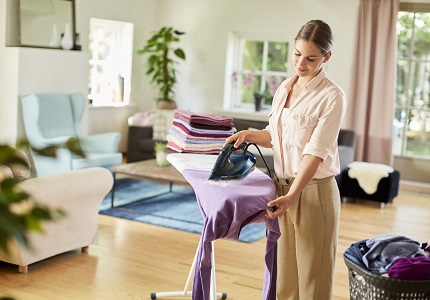 Ironing effortlessly with Philips steaming iron
Philips Steam irons with T-ionicGlide soleplate slides smoothly over your garments to make ironing even easier. The steam boost eliminates wrinkling with one press of a button. Philips Steam Irons feature a self-cleaning function, to ensure the steam output does not decrease over time.
Philips Steam Generators for the easiest ironing
No more having to sort your linen before ironing, nor having to constantly update temperature settings. Due to the OptimalTEMP technology, our Philips steam generators allow you to iron all types of fabric without having to adjust the ironing temperature. All you have to do is fill the tank with water and press the iron switch. Selected Philips steam generators are equipped with a removable water tank, so if you need to replenish water, you do not need to turn off the iron.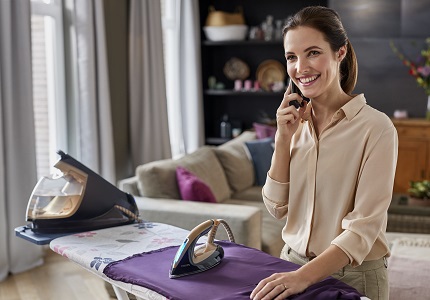 Philips Steamer
Ironing with Philips steamer is fast and easy. Especially if you find yourself with a wrinkled shirt or sweater before leaving the house. It will iron delicate fabrics without damaging them, it can handle various shapes and folds where it is difficult to get a regular iron. The Philips Steamer manages both horizontal and vertical ironing. PureSteam and Quick Calc prevents stones from accumulating so that your Philips steamer will work efficiently for many years to come.
Was this information useful?
This form is used only for evaluating the information in the description above.
If you have any question about our products, services, transport or any other request, please contact our customer support.
What should be improved? Is anything missing here? Is anything wrong? Share it with us.
Check out products sorted by price starting with the lowest price in the category cheap irons Philips
Find products sorted from the most expensive to the cheapest in the category most expensive irons Philips