Lever coffee machines count on your help to make coffee. They offer the same top-quality espressos, cappuccinos and lattes as automatic espresso machines, but they're cheaper. You will also enjoy the aroma of freshly ground coffee that is missing with capsule systems. So, how should you choose a lever coffee machine, and what are their pros and cons?
Continue
How to Choose a Manual Espresso Machine
Select a manual espresso machine or a lever espresso machine based on pressure, water tank capacity and wattage. You should also consider whether you want to only make espresso as you will need a lever espresso machine with a nozzle for frothing milk if you want to enjoy cappuccinos and lattes.
Lever Espresso Machine - Higher Pressure Is Better
To properly push water through ground coffee, you need a manual espresso machine that produces at least 9 bars of pressure. However, some lever coffee machines will not maintain this pressure throughout the coffee extraction process. Therefore, it is best to choose a manual coffee machine that is capable of exerting a higher pressure—ideally around 15 bars.
Manual Coffee Machine - Water Tank Capacity
Water tank volumes for manual coffee machines range from 0.5 to 2.5 litres, with the price and size of the machines increasing as the volume rises. A coffee machine with a 0.5 to 1-litre tank is normally sufficient for a two-person household.
Lever Espresso Machine - Power
A manual espresso machine comes with an input power ranging from 300 to 220W. Low power devices save energy and are usually compact in size. On the other hand, manual coffee machines with higher wattage are bigger, consume a lot of energy but offer better performance and a number of handy features.
Manual Espresso Machine — Advantages and Disadvantages
Lower price than automatic coffee machines.
A unique coffee experience.
Makey coffee from freshly ground coffee beans.
Resulting coffee is comparable to more expensive automatic espresso machines.
Preparing coffee takes more time.
More demanding device maintenance.
Manual Espresso Machine with Coffee Grinders
Some manual espresso machines have a built-in coffee grinder that grinds coffee beans to the coarseness you desire, so you can enjoy an even better and more balanced coffee taste. Lever coffee machines with grinders look like professional coffee shop machines and are comparable in price to automatic coffee machines.
Manual Espresso Machine Features
Frothing nozzle - creates creamy milk foam for cappuccinos and lattes.
Two cups at the same time - makes preparing coffee quicker and easier.
Height-adjustable base - allows the use of different cup heights.
Cup warmer - keeps your coffee at the perfect temperature or preheats an empty cup.
Coffee and water quantity settings - allow you to customise your coffee to your liking.
Coffee grinder - automatically grinds the coffee to the desired coarseness.
Display - makes it easy to operate the lever coffee machine and provides an overview of the beverage preparation process.
Energy-Saving Mode sets the coffee brewing process to be energy-efficient.
Auto shut-off - switches the machine after a period of inactivity.
Anti-drip system - prevents coffee from dripping out of the spout once the cup is removed
Cleaning System - rinses the machine after coffee brewing and prompts you to activate the descaling programme when needed.
Hide description
Was this information useful?
This form is used only for evaluating the information in the description above.
If you have any question about our products, services, transport or any other request, please contact our customer support.
What should be improved? Is anything missing here? Is anything wrong? Share it with us.
Lever Espresso Machines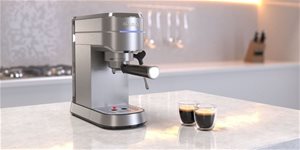 People have enjoyed the complex tastes of coffee since its discover. It is delicious, gives energy and for...
Coffee is one of the most popular beverages in the world. Every day, 2.25 billion cups of this aromatic drink...
International Coffee Day
Have you not heard about the International Coffee Day yet? Celebrate with us! This holiday celebrating the...
ESE, chemex, aeropress ... it sounds a bit complicated, but in fact home brewing is nothing complicated. To...
Lever Espresso Machines
In the category Lever Espresso Machines on Alzashop.com, we currently have a total of 76 products, which you can easily buy online and get quickly delivered. See all of your purchases and make orders on our easy-to-use app.
Check out products sorted by price starting with the lowest price in the category cheap lever Espresso Machines
Find products sorted from the most expensive to the cheapest in the category most expensive lever Espresso Machines
Check out products sorted by price starting with the highest price in the category best sellers, best lever Espresso Machines
You'll find products sorted by reviews starting from the highest ranked in lever Espresso Machines reviews