You can rely on Philips vacuum cleaners for all your needs
Whether you're looking for a bag, bagless, or robotic vacuum cleaner, you can always confidently rely on Philips products. With more than 120 years in business, Philips knows just what people need, and they have adapted their product development to suit those needs. The result is a collection of precisely designed and functional vacuum cleaners that make cleaning your home all the easier.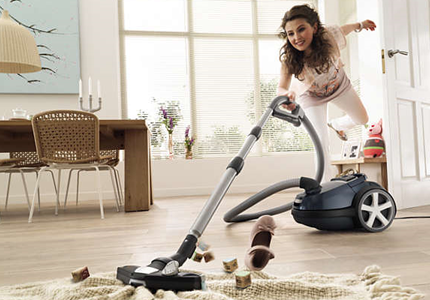 Bag vacuum cleaners from Philips are cleaning experts
Philips bag vacuum cleaners boast low power consumption, excellent performance, and minimal noise. They use a highly efficient HEPA13 filter to capture up to 99.95% of dust, including the finest particles. AirflowMax technology ensures even stronger suction power. Philips vacuums have ECARF (European Centre for Allergy Research Foundation) certification, making them ideal for those with allergies. The unique TriActive nozzle performs three cleaning actions in one go - gently and thoroughly vacuuming coarse carpet, lifting dirt, and removing dust from walls and furniture.
No more bags with Philips bagless vacuum cleaners
Are you tired of buying vacuum bags? Then get a Philips bagless vacuum cleaner. NanoClean technology prevents dust from sticking to the walls of the bucket and remaining in the air. The dirt settles directly at the bottom of the dust bucket, making it easier to empty the container without the usual dust cloud. In addition, Philips vacuums feature PowerCyclone technology, which guarantees exceptional suction power. As with most Philips vacuum cleaners, the bagless range includes a highly efficient HEPA13 filter and a unique TriActive nozzle. Furthermore, they boast class C carpet cleaning performance and with the ECARF certification, they are recommended for all people with any sort allergy.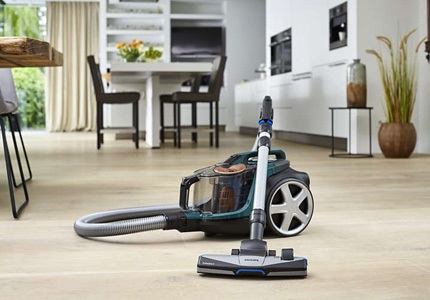 Philips vacuum cleaners are always on hand
Don't want your cleaning equipment to take up a lot of space in your flat? Philips has plenty of space-saving vacuums. Replace your classic vacuum cleaner with a stick vacuum that can also mop. You'll save time as your device will be able to simultaneously vacuum and mop. Philips stick vacuum cleaners are slim, light, and cordless. They can last up to 5 hours on one charge and remove up to 97% of dirt in one stroke. It also has excellent filtration technology - it captures up to 90% of all allergens, pollen, and bacteria that are as small as 0.3 micron.
Philips vacuum accessories
Whether you're looking for a variety of Philips vacuum cleaner nozzles, replacement bags, or filters, we've got everything on offer. You can find, for example, a special nozzle for cleaning up large crumbs, a nozzle with a suction brush for vacuuming along walls, or a 180° rotary nozzle to aid you in your cleaning. Philips' unique s-bag allows for hygienic disposal of dirt because they can simply be closed and discarded when removed from the vacuum cleaner. They are made from three materials - paper, synthetic, or anti-allergenic material. All of the bags are designed for use in both Philips and Electrolux vacuum cleaners. Also, do not underestimate how often the filter must be replaced - it should changed at least once a year.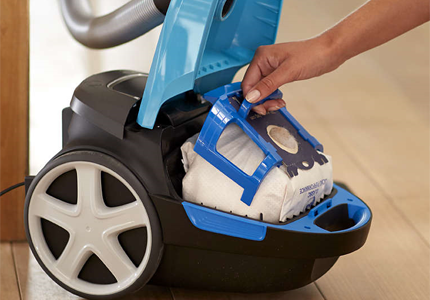 Was this information useful?
This form is used only for evaluating the information in the description above.
If you have any question about our products, services, transport or any other request, please contact our customer support.
What should be improved? Is anything missing here? Is anything wrong? Share it with us.
Check out products sorted by price starting with the lowest price in the category cheap vacuum Cleaners Philips
Find products sorted from the most expensive to the cheapest in the category most expensive vacuum Cleaners Philips