Although virtual reality has been around for a good many years, it has only recently become widely available in a usable form. In essence, virtual reaility involves a headset that is connected to a PC (with sufficiently powerful hardware) or a games console such as the PlayStation 4. It aims to present a virtual world in an advanced, interactive, digital simulation. VR allows you to peek into the most remote places on our planet, go on extreme adventures, play intense games, and even experience outer space. Not sure if VR is for you? Check out our cool infographic.
Continue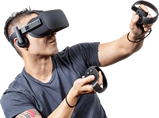 Major players in the VR field include:
To get the most of your VR experience, it is necessary to use powerful hardware (except for PlayStation VR and Samsung Gear VR). That's why we offer a wide range of VR-ready PCs and laptops. You can also find powerful graphics cards in our VR-Ready category.
Was this information useful?
This form is for collecting Feedback Only. If you have any other inquiries, please our Customer Care team here.
Is something missing or displayed incorrectly? Let us know your suggestions so we can improve the website and customer experience.
Best Deals
1.
VR Headset - Virtual Reality, simple and stylish, high quality, compatible with Moto Z, Pixel, Axon 7, Mate 9 Pro
2.
VR Headset - designed for Samsung Galaxy Note 7, Galaxy S7, S7 edge, S6, S6 edge, edge-S6 (SM-N930, SM-G930F, SM-G935F, SM-G920F, SM-G925F, SM-G928F)
3.
VR Headset 4.7 to 5.5 for smartphone "
Virtual Reality
Enter product name
Note (link, Part number etc.):